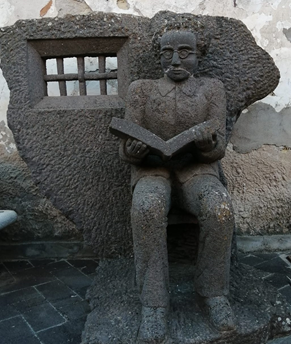 The sculpture is located in Modolo, Oristano. Photograf from prof.ssa Piras
"Dear dad, I have grown old, and you would no longer recognize me as that child that mum told you then".
This is only the beginning of what Giuliano Gramsci wrote to his beloved father Antonio.
At the age of eighty Giuliano decided to free his thoughts, to express all of himself: his feelings, his emotions and to tell everything he wanted to say to his father in an entire life, but he couldn't. So he decided to write letters. Twenty letters, addressed to his father, full of emotions, nostalgia and regrets. His state of mind emerges overwhelmingly, through an "imagined" story, in which he expresses that he is always proud and proud of his father, despite not having been able to live with him, play with him, but not because Antonio was dead.
No!
He was in prison.
Giuliano, like his mother Tatiana, had a passion for music. He would have liked that his father Antonio had known it.
In these letters you can breathe a very human figure of Antonio Gramsci, seen through the eyes of a man who still remembers how as a child he imagined his father.
Giuliano could not enjoy the privilege of having his father close to him, but he remembers it simply from black and white photos, which he observes with pride and nostalgia.
The desire to hug him, hear his voice or simply see him, grew every day, he felt the anxiety for not having him next to her.
In a letter, Giuliano write that when he was asked where his father was, he used to answer as follows: "My dad is out for work, abroad!"
"I learned this sentence by heart, dad. So I silenced all those who tried to embarrass me! I felt proud and proud of my dad and of his mysterious and important work that kept him abroad for so long. Giuliano was obsessed by the thought of his father and the need to be with him: he just couldn't swallow that this great right had been denied him. Giuliano Gramsci, a man surrounded by an aura of humility, understood the tragedy that his father Antonio and many other fathers had also experienced or were living: "That of having been deprived of living with his family, of not being able to embrace his wife and children" ...
Inspired by the book "Papa Gramsci, the Heart in the letters" written by Anna Maria Sgarbi